FAT brands inc. (NASDAQ: FAT) is an American restaurant franchisor attractive on several counts to value investors. It has a small market cap of $119.31 million and a stock price of just $7.34, its revenue dazzling growth over the last four quarters, a strong upward trend in the number of restaurant openings and the expansion of its multi-brand offer with a remarkable investment of more than $900 million in acquisition transactions over the past year. However, can we trust a company that invests heavily in its business by relying on itself, lending incredibly large sums of money, to safely repay loans without risking default? With so many new compatible and global brands under its belt to offer to existing and new franchisees, I think investors may want to take an optimistic stance on this company due to the immense growth potential of this low-capital business next year. . Nonetheless, the negative earnings, high level of debt and risk of negative cash flow cannot be ignored, in addition to the uncertainty surrounding the US Attorney's investigation into the CEO's private funding currently underway.
Company presentation
FAT is an American company that now owns seventeen restaurant brands worldwide in four segments that are all related to fast and/or casual food delivery. Seven of these brands have only been acquired since July 2021.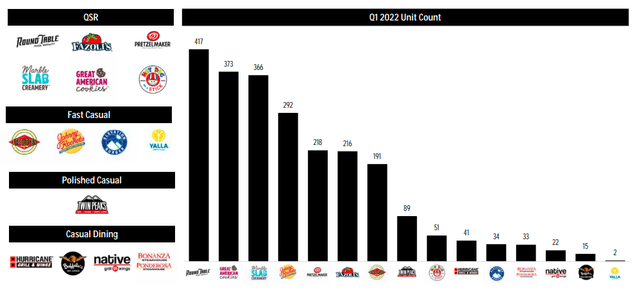 95% of the company is built on its franchise business model, it also operates a small number of wholly owned restaurants. The business generates revenue from initial franchise fees, which can range from $0 to $50,000 per store, followed by recurring operating royalties, from 0.75% to 7.00%, in addition to advertising costs based on franchise sales. This allows it to be asset light, while enjoying good profit margins and positive free cash flow. In exchange for royalties, franchisees enjoy growth potential through its extensive offering of premium and diverse compatible restaurant brands that can be cross-sold and, of course, the benefits of cost reduction synergies through streamlining and merging processes between brands.
FAT was established as a holding company in 2017 for Fatburger, which grew from bankruptcy in 2009 to a now thriving brand with global reach. Focusing on international locations rather than the highly competitive US market was part of the reason for its revival. Since its IPO in 2017, Fat Brands has continued to make great strides in growth and acquisition. In 2020, he acquired Johnny Rockets, a burger chain, for $25 million. In July 2021, FAT acquired the Global Franchise Group which is strategically made up of five different food category brands enabling IT to expand its offerings for franchisees with the following various sweet and savory food options: Great American Cookies, Hot Dog on a Stick, Marble Slab Creamery, Pretzelmaker, Round Table Pizza.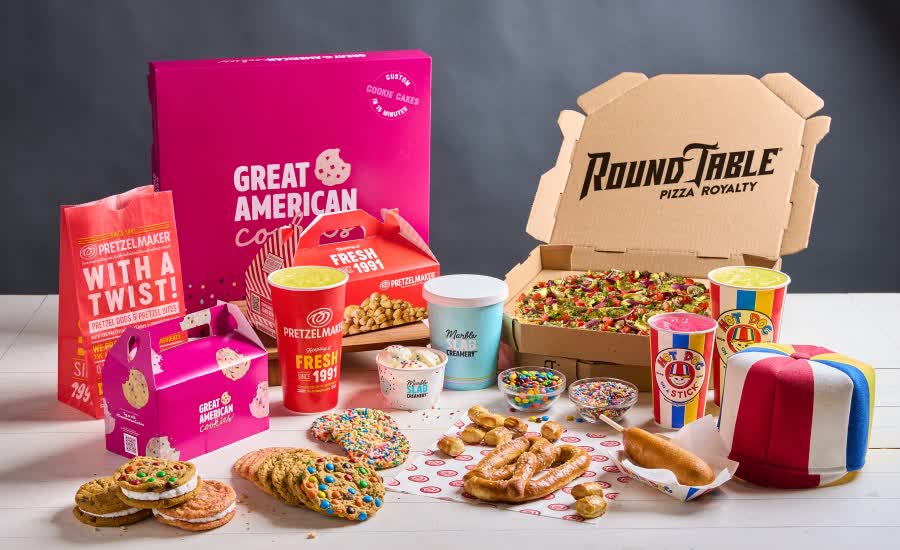 Most recently, in October 2021, it acquired Twin Peaks, a chain of sports bars and restaurants, for $300 million and most recently, in May 2022, it acquired Nestle Toll House Café, a chain of dessert cafes, for an unknown amount. These have expanded the offering possibilities for current and new franchisees who can deliver to a wider range of customers and meet more of their demands.
Evaluation
In terms of earnings per share, investors are entitled to quickly turn away from FAT, the company has produced negative EPS for the past nine quarters. Additionally, we can see by the high value of the company compared to the market cap value of 9.411 that it is a risky company to consider with its extremely high leverage. However, this has not stopped FAT from receiving loans and financial support to aggressively expand its business in a fiercely competitive and fragmented market, especially since 2020. Additionally, the acquisitions that have taken place have been well received. by investors, with share prices rising after the various takeover announcements. Since its IPO in 2017, the share price has increased by 52.17%, it reached a maximum price increase of 152% in June 2021. However, the price fell sharply in February 2022 after it was announced that the CEO was under investigation for financial misconduct. . Nevertheless, over the past month, the stock price has increased by 25.86%. This looks promising, especially since the general stock market trend is down. The uptrend could be partly due to strong first quarter revenue results, the handling of legal issues during the first quarter 2022 conference call, the company's confidence in future revenues, the announcement of a new acquisition in 2022 and the visible results of the opening and strong performance of new local and international restaurants. . The price to sales ratio, P/S ratio, looking at the company's market capitalization divided by its total 12 month sales is 0.54 which is very low and may indicate that the company is undervalued .
The company has a strong pipeline in place for the remainder of the year, with management forecasting potential incremental EBITDA of $50 million. Costs are falling as shown by the big jump in gross profits since major acquisitions in 2021 in the chart below. The company will further benefit from the synergies and economies of scale that can be created across existing and acquired brands.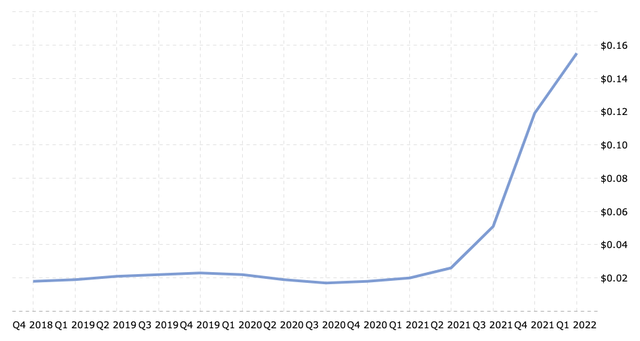 FAT, as of Q1 2022, has 761 franchise partners operating at over 2,360 international locations and there are over 860 units under development, some of which have yet to be built. In addition, the company wholly owns 129 restaurants. Total sales growth increased by 341% between the first quarter of 2022 and the first quarter of 2021. Gross profit for the first quarter of 2022 is $56.67 million, with a margin of 27.03%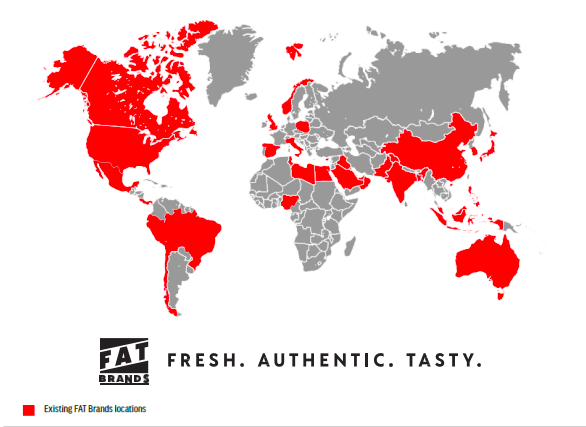 For a business with negative earnings, it is very important to establish whether the problems are temporary rather than permanent in nature. What we see with FAT is that it has invested heavily in growth through expensive acquisitions. This makes me believe that the rest of the year is on a clear path to increasing revenue numbers with the likelihood of reducing debt and other expenses. Additionally, with rising inflation, the company has sent the message to franchisees to raise their prices to maintain margins, as a result FAT royalties will increase.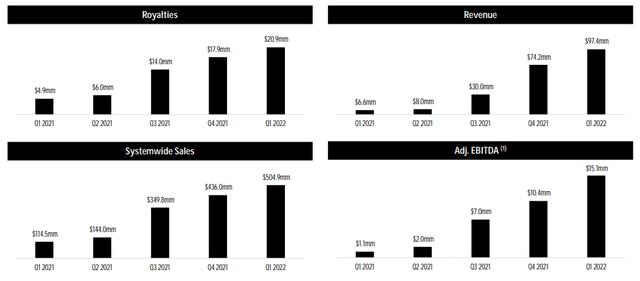 Risks
First, the company is not performing well on many benchmark valuation metrics and a very big flag is its high leverage of $938.2 million as of December 26, 2021. Due to the funding provided to the company for its acquisitions and operating expenses, the company needs a very large cash flow to cover the leverage. It has strict payments and obligations to meet to avoid a risk of default. There are significant upfront and interest payments to be made.
Second, the franchise business model is highly dependent on the success of its franchisees for revenue growth. If the stores are not functioning, there is a decrease in royalty payments. FAT can only control contractual obligations, training and assistance. Franchisees could negatively impact the business in addition to inaccurately reporting sales. There must be a permanent pool of potential new franchisees to recruit from or growth will slow. Negative perception of a franchisee's brand could reduce sales at other restaurants.
Third, COVID-19 has forced franchisees to take one or more of the following actions: they have had to close, downsize or reduce hours of operation, and/or switch from catering to delivery-only. COVID-19 has made it difficult to hire staff and in many cases has restricted supply and added additional costs. This impacted the company's growth plan by preventing and creating delays in opening new stores.
Fourth, a highly competitive food retail industry may find it difficult in the future to acquire new brands or new restaurant concepts due to more competitive acquisitions, which will also cause the price of these types of products to rise. purchases. Competitors are larger, more established and have access to larger portions of capital.
Finally, there remains uncertainty about ongoing investigations into the CEO and US attorney and whether or not this may impact the company's operations. Although the defendant denies the allegations, we have already seen the decline in the share price that he created in February and therefore we can assume that the share price will be sensitive to any further updates.
Future and conclusions
It is undoubtedly risky to bet on a company that has not shown positive results and is heavily indebted. However, the business lifecycle is important to consider. FAT is in a steep growth phase, which we can see with revenue and gross profit growing well above the average for companies that are not yet profitable. The share price has also positively increased by more than 50% since its IPO. While there are many reasons to remain skeptical of this company, I believe that the price reduction over the past few months has undervalued the company, while on top of that the big acquisitions that have been made look set to generate significant revenue for the remainder. of the year. For this reason, investors may want to take a cautious but bullish stance on this high-growth company.